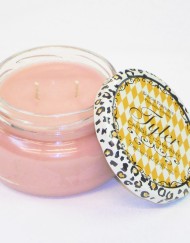 11 oz Prestige Jar – Paparazzi
$15.00
Out of stock
Description
The Tyler Candle 11oz Jar has two wicks. It was created to fragrance bedrooms, breakfast rooms and offices, and make great gifts.
• Burn time: 50 to 60 hours
Paparazzi – Dedicated to those who admire the glamorous & fabulous through lenses up close & from afar!  Rich musk & leather very masculine conveying true envy!