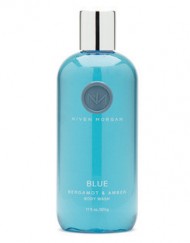 Blue Body Wash
$28.00
For shower and bath, our rich foaming gel is a luxuriously bracing spa formula that leaves your skin feeling fresh and delicately scented head to toe. Niven Morgan Body Wash is enriched with vitamin E, soothing chamomile, comfrey and arnica extract. Follow with Niven Morgan Body Lotion.
Description
Paraben free. Never tested on animals. 9.5oz bottle.
The Scent
A fresh, intoxicating fragrance, Niven Morgan's Blue evokes visual stimuli: a perfect sky reflected in the melted sapphire of a calm sea, these primary blues expressed in an elixir that blends exotic tropical woods and warm amber spiced with mandarin, bergamot and the bright tang of lemon. For men and women.