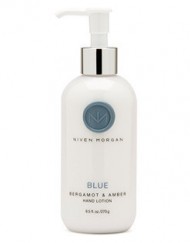 Blue Hand Lotion
$20.00
Light, refreshing and non-greasy, this hydrating hand lotion is specifically formulated for quick absorption. Organic aloe vera blended with extracts of arnica, shea butter and algae restore and nourish. Use regularly with Niven Morgan Hand Soap and Hand Cream.
Description
Paraben free. Never tested on animals. 9.5oz bottle.
The Scent
A fresh, intoxicating fragrance, Niven Morgan's Blue evokes visual stimuli: a perfect sky reflected in the melted sapphire of a calm sea, these primary blues expressed in an elixir that blends exotic tropical woods and warm amber spiced with mandarin, bergamot and the bright tang of lemon. For men and women.