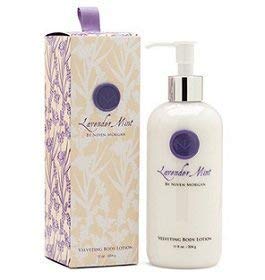 Lavender Mint Body Lotion
$32.00
Pure luxury! Our body lotion is a velvety blend of aloe vera, moisturizing shea butter, extracts of cucumber and nutrient-rich algae. Supplemented with essential vitamins of Vitamins A, C, E and Panthenol (Pro-Vitamin B5) Niven Morgan body lotion helps soothe and soften dull, dry skin while revitalizing and nourishing your skin.
Out of stock
Description
Paraben free. Never tested on animals. 11oz bottle.
The Scent
Invigorate your senses with our Lavender Mint. Relax, breathe and enjoy this unique herbal blend. Fresh, cool mint is blended with lavender, clary sage, and spearmint to evoke an uplifting and aromatic scent.