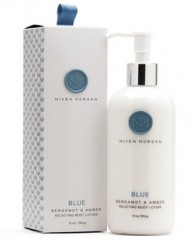 Blue Body Lotion
$32.00
Pure luxury! Our body lotion is a velvety blend of organically grown aloe vera, moisturizing shea butter, extracts of cucumber and nutrient-rich algae. Supplemented with essential vitamins of Vitamins A, C, E and Panthenol (Pro-Vitamin B5) Niven Morgan body lotion helps soothe and soften dull, dry skin while revitalizing and nourishing your skin.
Out of stock
Description
Paraben free. Never tested on animals. 9.5oz bottle.
The Scent
A fresh, intoxicating fragrance, Niven Morgan's Blue evokes visual stimuli: a perfect sky reflected in the melted sapphire of a calm sea, these primary blues expressed in an elixir that blends exotic tropical woods and warm amber spiced with mandarin, bergamot and the bright tang of lemon. For men and women.