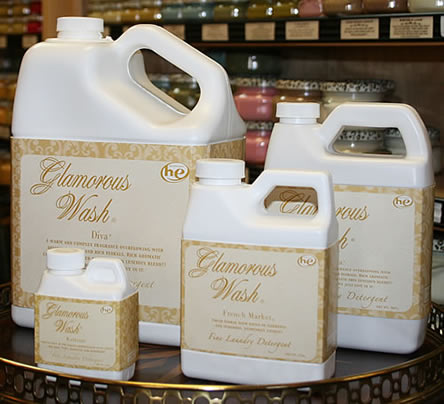 Tyler Candle Company Glamorous Wash
$7.50 – $90.00
Tyler's Laundry Wash – Formulated to Clean Effectively and Safe for All Fabrics, Including Linens or Lingerie!
NOTE: Sorry for the inconvenience, but please click here to order: Entitled or French Market or Trophy.
Description
BUYING TIP: Instead of buying four 32 oz bottles, buy the gallon size because it saves you $22.00!
This laundry washing detergent is safe in Hi Efficiency (HE) Washers for your clothes, sheets, and linens.
Tyler Laundry Detergent Fragrance Descriptions:
Fleur De Lis ia a timeless fragrance with a heady, sun-kissed feel wrapped in the exotic lushness of faraway lands. Tart pomegranates create the mysterious heart of the amazing fragrance. An elixir for the senses!
French Market is fresh floral with notes of gardenia & tuberose, extremely unique!
Kathina is sensual lily of the valley intertwined with citrus and rose. Very dramatic and overdone!!
High Maintenance is a floral, woody blend combined with patchouli and vanilla with a heavy musk undertone. A very sophisticated and truly addictive scent. You will love it!
Diva is a warm and complex fragrance overflowing with delicious fruits and rich florals. Rich aromatic chocolate and amber complete this luscious blend!! It's her world…we just live in it.
Tyler is bursting with the medley of currant & grapefruit. A dash of green undertones adds an opulent twist! Firmly grounded with confidence! The one and only, the fragrance that is the same name as the maker!
Trophy is extreme confidence & endurance required to obtain! Warm & romantic vetiver begins this amazing fragrance & then intensifies with the excess neroli, African marigold, and Moroccan cedarwood!
Entitled is rich sugared oranges, meld with tart lemons, and limes, reminiscent of exotic mountain greens!
Tyler Glamorous Wash laundry detergent comes in 4 sizes:
Gallon (3.78 liters) size, 32 oz Large, 16 oz Medium and a 4 oz Small size.
The amount you should use per load of laundry is 1/3 of a cup however, depending on your preference, you might want to use more or less. Some people desire a stronger scent and use more Glamorous Wash.
Either way, a gallon size would wash between 40-50 loads, while a small size makes the perfect gift.
Here is a great idea, to get Glamorous Wash samples, buy the 4oz sizes. Everyone will love the scents that Tyler uses for this wonderful smelling laundry detergent. These small containers are a perfect way to experience all the glamorous laundry fragrances.