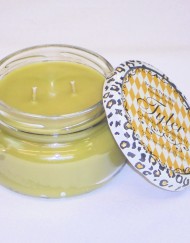 11 oz Prestige Jar – Hippie Chick
$15.00
3 in stock
Description
The Tyler Candle 11oz Jar has two wicks. It was created to fragrance bedrooms, breakfast rooms and offices, and make great gifts.
• Burn time: 50 to 60 hours
Hippie Chick – A hint of the frenchest vanilla bean melds with rich exotic patchouli to transport you legally to the days of the VW bus, Rock & Roll and tie dye T-shirts!!!