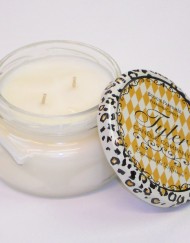 11 oz Prestige Jar – Platinum
$15.00
4 in stock
Description
The Tyler Candle 11oz Jar has two wicks. It was created to fragrance bedrooms, breakfast rooms and offices, and make great gifts.
• Burn time: 50 to 60 hours
Platinum – Inspired by the masculinity, power and strength of a man.  A complex mixture of bergamot, lavender, pineapple leaf, exotic verbena, oakmoss, geranium, coumarin, apple, rose, pomarosa, sandalwood, tonka, & evernyl.